Intermediate Outdoor Wilderness Living Skills
After your journey with our BOLS class, walk farther down the trail with our intermediate Outdoor Wilderness Living Skills (OWLS™) class, learning how to do more with less and being faster at it.
As we usually work with groups, once you have a foundation in BOLS, we can customize the next class to fit your needs and environment.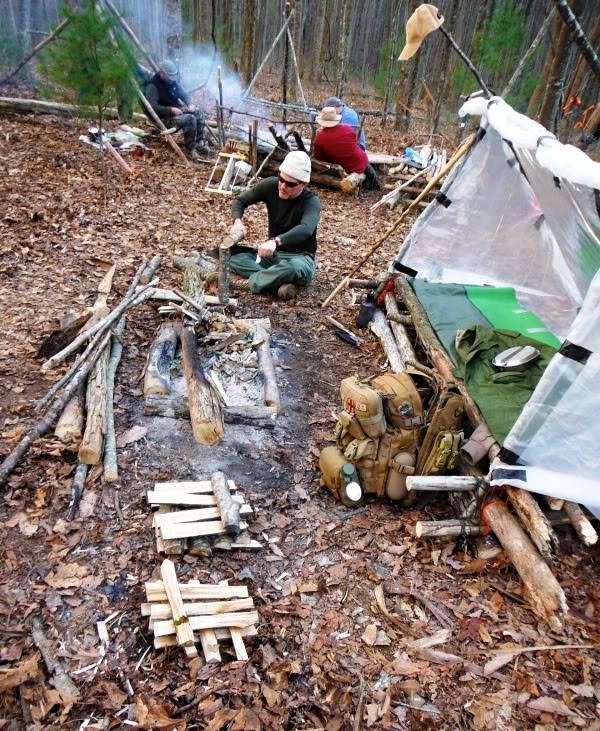 Please note, the list below is not an end-all be-all list, nor is it a list of survival priorities. It is purely a list of intermediate skills of which we will teach with the context.
Wilderness First Aid – Emergency Care and Safety Institute (ECSI) 16 hour curriculum. Boy Scout of America recognized and typically a stand-alone class.
Firecraft – primitive methods,  useful fire-lays, uses of fire, fire weather, fire ethics, and more.
Cutting tools – knife skills, sharpening, improvised cutting tools, safe saw and axe use.
Cookery – from the primitive to cast iron. Menu planning, packing, storing, hygiene, and wildlife awareness.
Campcraft – gadgets, kitchen accoutrements, furniture, and knife skills.
Weather Wisdom – learn to read Mother Nature to predict the weather.
Navigation – Map & Compass, Route Planning, Natural Navigation, Lost proofing, and Trailcraft.
Shelter and Beds – tarps, primitive, bushbeds, blanket use, pest management, and the Mors Kochanski Super Shelter.
Tree & Plant ID – learn how-to-learn trees and plants. Plant uses included, harvesting ethics, and the truth about edible wild plants.
Ropecraft – bindcraft, cordage manufacture, and improvised carriers/containers.
Finally for those that love high adventure and are willing to take the trail less traveled, our customized Advanced Wilderness Living Skills (AWLS™) classes truly take a walk on the wild side.
Please contact us for any questions and scheduling.